"

FANTASTIC! You made our day, it wouldn't have been the same without you."
— Steven & Joanna, Exeter.
"Phil is a charismatic singer, guitarist and entertainer. He has been performing on stage for many years performing over 200 shows a year and has performed all over the world including USA and venues throughout Europe.
 A seasoned wedding singer and guitarist for 100's of happy couples with a determination to provide the best entertainment available.
With a unique, powerful & soulful voice, Phil performs a mixture of beautiful aisle songs, and 'acoustic live lounge'  incorporating a looping machine building big soundscapes from the ground up - live; creating an atmosphere that can't be matched. On top of all this his evening entertainment party band has to be seen to be believed! 
---
Hi and thank you for taking the time to look around.

I've been singing and playing guitar professionally for over 15 years...and counting. 

I began playing guitar and singing when I was 14 after a friend left his guitar at my house, it never left! I'd play and sing all day, and i've never really stopped, I'm always grateful that i just had it within me to carry on, I loved it. I never seemed to do the same with learning French.....

During those early years I began playing in bands and have gained so much experience and the opportunity to play many different types of music which I now use in my show. I've loved performing in pop and rock bands, swinging big bands, disco bands, blues bands, acoustic party bands and various party and event bands leading to a long spell signed to major label, Carlin Music, with original music with tours of United States and Europe. A real highlight for me was performing big gigs in Hollywood and New York working with well known producers and managers, great memories!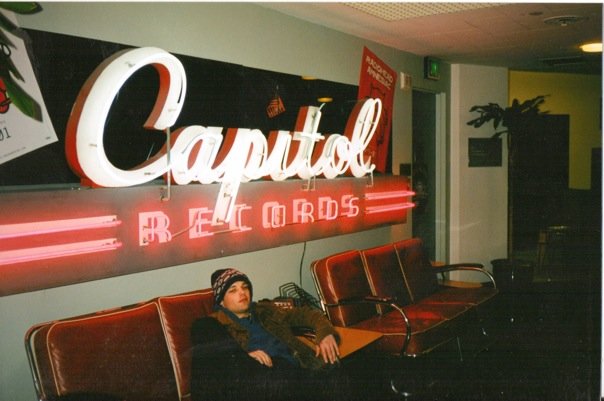 Here I am in my 'Rock Star' days during a meeting in the famous building at Capitol Records in Los Angeles  
(well i thought I was cool at the time  ;-) )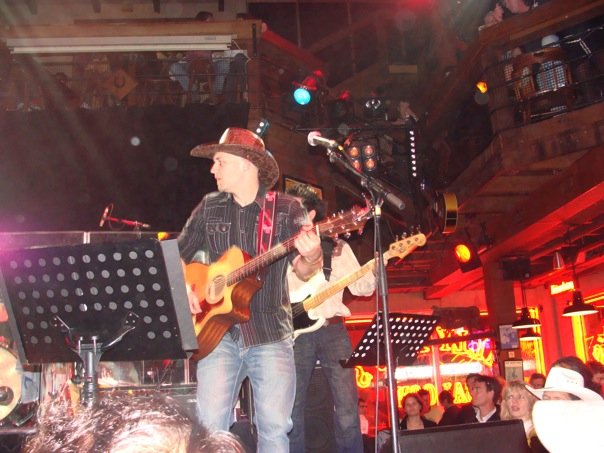 On tour performing at Disneyland Paris

For the past 5 years I have taught at the prestigious Academy of Music and Sound in Exeter where I am employed as a lecturer, covering all aspects of music theory, live performance plus exclusive guitar tuition. 

My hobbies include keeping fit, failing at keeping fit and walking my dog. I'm a family man so I like to spend time with my children and i'm well known for my obsessive behaviour when making the correct cup of tea or coffee! Hot water.....3 minute brew....don't stir the bag. Try it! lol. 

The last few years I've gained a solid reputation as a covers artist and currently perform solo creating songs from the ground up with an amazing looping machine, in a fantastic acoustic band and in 2010 I founded, manage and perform as lead guitarist/vocalist in the highly succesful wedding and party band New Heroes playing at functions all over the UK.
I love to perform at weddings and private parties, what an honour to be part of a happy couple's biggest day of their lives.
I work really hard to give you the best entertainment, its an obsession to make it the best possible!
I've been told I have a friendly approachable nature and I love to go out of my way to ensure I make your event wonderful and do what I can possibly can to make it work seamlessly. 
I sit most days playing and practising my songs, have a large repertoire  can cater for everyone and encourage you to help me choose the perfect accompaniment to your occasion. Oh and I love requests as it give me new idea's, one I wouldn't neccesarily come up with. 
I have many years of experience providing professional wedding and party entertainment so by choosing to book me you are guaranteed to receive a professional yet personal service.
I have been married for 6 years, to Hazel, and we live in Exeter with our 2 son's, Zakk & Eddie, and you can see below my attempts to turn them into the next generation rock stars! Then I can retire! :-)